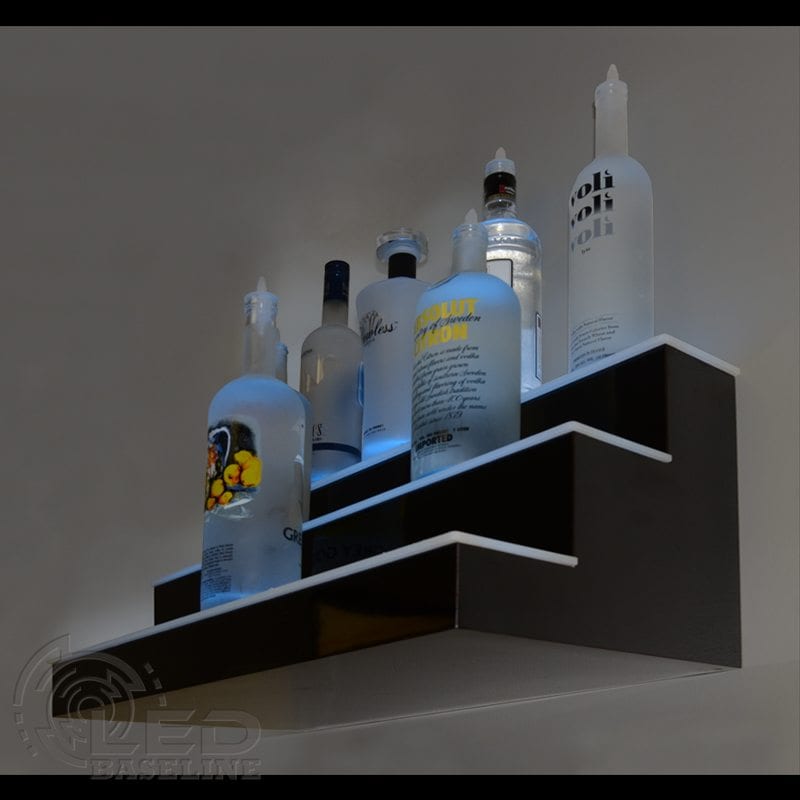 Wall Mounted Liquor Shelf
Commercial bars, nightclubs, restaurant bars and sophisticated home entertainment bars usually keep more liquor on hand than they have available space to display it. If you want to show off your wares, you should consider adding a wall mounted liquor shelf to your bar scene. Advantages include:
More Space to Display Liquor Bottles
Psychologically, a well-stocked bar inspires people to order drinks. Conversely, people hesitate to order drinks if they feel you have little to serve. It makes sense for your business or hospitality goals to treat your guests' eyes to a large, cleverly-lit display. If your back-bar counter space is limited, go up the walls with lighted liquor shelves. The more visible the options, the more likely you'll make sales (even if you don't charge).
A Floating Wall Mounted Liquor Shelf Mesmerizes Your Guests
By using LED lighted shelves with hidden brackets, your liquor bottles seem to float against the wall and glow with a life of their own. This special illumination renders your liquor in the most appealing manner possible. Program the lights to rotate custom colors that you mix on your handy remote, and your patrons will remain transfixed by your displays. The longer they loiter at the bar, the greater your opportunity to keep their glasses re-filled.
Lighted Shelves Contribute to Both Decor and Ambiance
The beauty of illuminated liquor shelves rests in their functionality. They provide mood lighting that promotes an intimate atmosphere. Because these shelves come custom-made to your specification, they also serve as decorative elements. You handle two marketing requirements at the same time: spotlighting your merchandise in a tastefully decorated room.
A wall mounted liquor shelf solves space problems for a cramped bar. A collection of shelves can elevate the level of decor and also provide a captivating color show to capture the attention of your customers. You should add several of them to your lounge, nightclub, restaurant or home bar today.