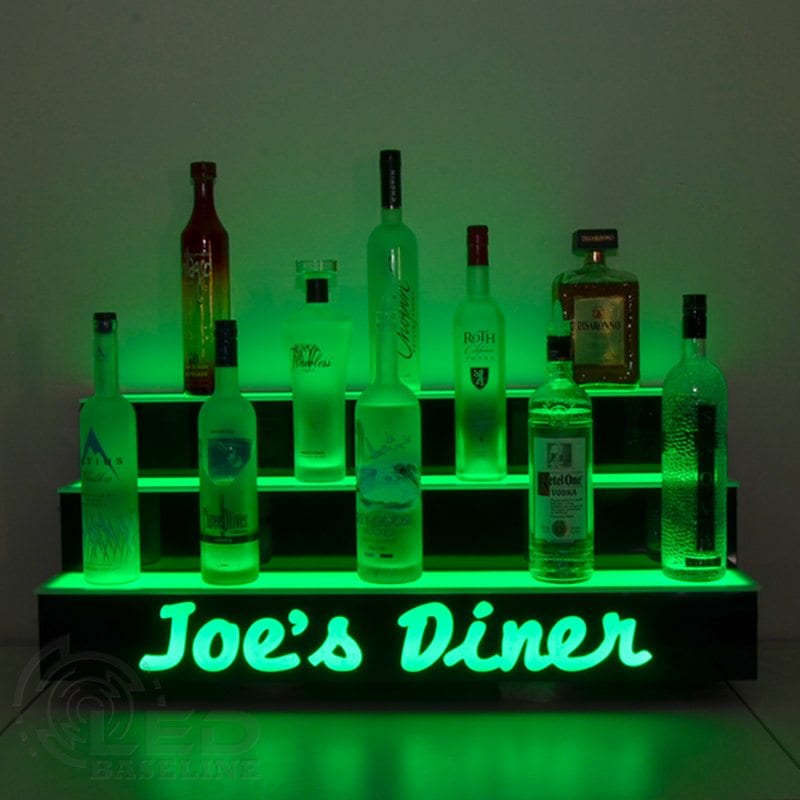 LED Liquor Shelf Options You Didn't Know You Had
You know you want to incorporate at least one lighted LED liquor shelf into your bar. Are you limited to pre-fabricated shelves from online retailers? Maybe you would rather acquire a shelf — or many — custom designed for your unique bar. Well, if you want options, you've come to the right place. You choose exactly which features, finishes and dimensions that make your dream bar come true. Here's a sampling of options from which to build your perfect LED lighted shelves.
Stands
Stands need no mounting. Simply place on the front or back bar and stock with your liquor bottles. Also known as island shelves, you can go simple with one tier or as complex as you like. Your stands can resemble bleachers or stage platforms with each successive tier smaller than the one below.
Tiers
Tiers grant your entire stock face time with your guests. No bottle, no matter how beautiful or lowly, gets left out of the display when you have enough tiers. Each row can have as much vertical reveal as you like with low, medium or high profile shelves. Of course, LED lights brighten every level according to your color preferences for each.
Wall Mounts
Want to nestle your stock against the wall, freeing up bar space for mixological magic below? You can mount your LED liquor shelf with visible brackets or as floating shelves. Again, you choose your shelf dimensions to suit your tastes.
Finishes
While the lighting is what attracts all the attention, the shelf finishes follow close behind in importance. You can choose from colored laminates, real wood or wood laminates and sheet metals with a variety of visual and tactile surfaces. Have a different idea? By all means, it can be explored and most likely implemented, too.
Logos
Few things are as classy as your logo lit from behind embedded in your LED liquor shelf. If not your business logo, then you can choose logos of your favorite sports teams or any artistic design that will make your bar more memorable.