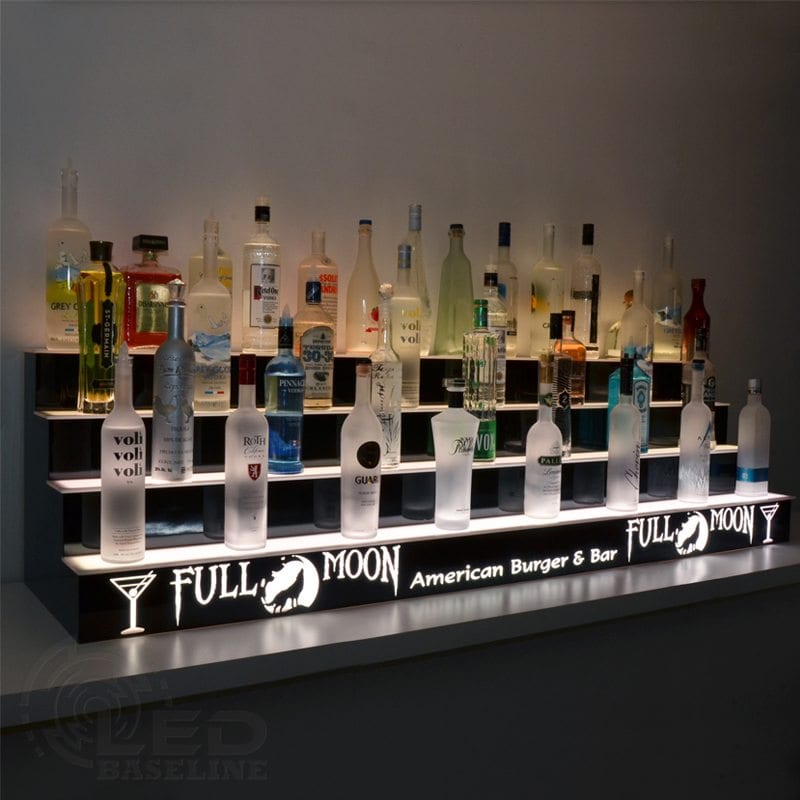 Bar Shelf Plus LED Lights – The Perfect Match
What does your bar shelf say about your establishment or home bar? Does it say, "This place functions as a bar, but that's it"? Wouldn't you rather they say, "Come hither and gather around my bottles"? If your bar shelf displays your wares with no enthusiasm, can you expect much more from your patrons?
Get the Party Started with a Lighted Bar Shelf Display
Ordinary bar shelves, lit with obscure light fixtures, at least offer you handy access to your liquor supply. But when you mate internal LED lights with translucent acrylic platforms, your bottles suddenly come to life for all to see and admire. With a near-infinite range of color mixes from rows of energy-sipping LED's , your patrons can't help but see your bar in a whole new light. Fascinate them with a show of rotating colors, and they won't want to leave.
Ambience for Pennies on the Dollar
Since you need to light your bar somehow, you may as well save on your energy use while you're at it. Of all the lighting technology out there, LED requires the least amount of electricity watt for watt. When you install lighted bar shelves, you gain soft illumination without switching on juice hogs like florescent or incandescent bulbs. If you have too little room for a large rack of lighted bar shelves, consider a lighted bar and lighted furniture, as well. When you outfit your bar in LED radiant shelves, working bar and cocktail tables, you save a chunk on your utility bill while charming your guests with attractive, subdued ambience.
Adding LEDs to your bar shelf display is like a marriage made in heaven. Since you keep control of your rotating light and color options from a hand-held remote, your bar never becomes tired and boring. Also, since they can be custom designed and manufactured for any environment, lighted bar shelf displays will always enhance your establishment's reputation.