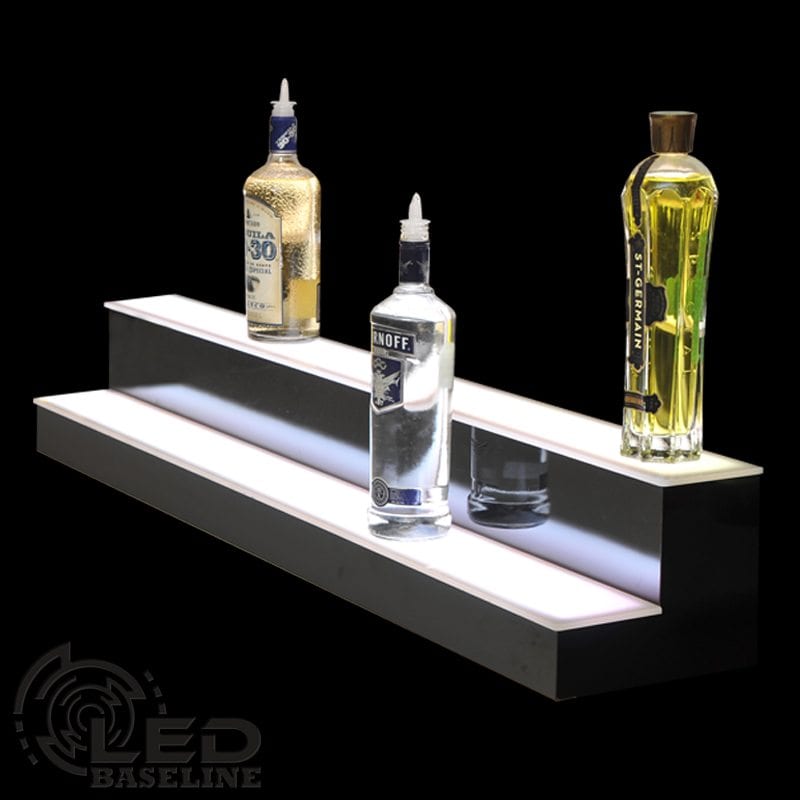 Do floating shelves actually drift around a room, making it difficult to dust the knickknacks? Maybe, if you give the physicists a few more years. In the meantime, when you attach a platform to a wall in such a way that the supporting hardware remains invisible, you create the illusion that the shelf floats in place. The design infuses a certain elegance to the room. But if you want to draw immediate attention to the ledge and whatever it holds, you add illumination. To absolutely fascinate the viewer, you hang floating LED lighted shelves.
Benefits of Floating LED Lighted Shelves to Bars, Galleries and Nightclubs
Restaurants, drinking establishments and art galleries garner many benefits from LED lighted shelves. Because they attract the eye and illuminate your offerings, they set the mood for buying. Nothing persuades like alcohol bottles and racked glasses displayed with rotating LED color schemes. The longer your guests gaze upon the arrangement, the more motivated they will be to sample your supply.
Likewise, art resting upon the gentle radiance from below, takes on an irresistible, mystical quality. Sculptures, pottery, jewelry and other fine art become the focus, directing your prospective customers to the smaller wares you most want to sell.
Home Displays on Lighted Shelves
Homeowners appreciate the delights of floating LED lighted shelves, as well. In formal parlors, great rooms, man caves and home bars, these dynamic, color-washed shelves prove your superior decorating tastes to all your guests. Because LED lighting offers the most flexibility in fabrication and use, your lighted shelves can be made to change colors on a schedule you design. As they float peacefully against the walls, colors can fade in and out in tandem or independently per shelf, as you prefer. The charm of the shelves will also remove the chore from dusting your liquor bottles or sundry curios since you'll enjoy the eye-pleasing show as you work.
While floating shelves add a special class to any room, you, your customers and your guests will especially love floating LED lighted shelves.