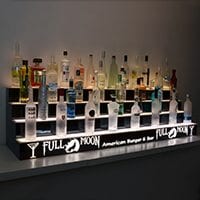 Transform Your Restaurant Bar Shelf System with LED Lighting
Do you suspect your restaurant bar might be underperforming? Usually, liquor service offers a pretty high return on investment, but if your bar lacks pizzazz, your customers may not feel the impulse to order drinks. You can easily cure the boring liquor display with a dramatic restaurant bar shelf system infused with LED lights.
Liquor Should Shine on Your Restaurant Bar Shelf
Plain liquor and glassware shelves lit from above call scant attention to your wares. Place your bottles and glasses on LED lighted bar shelves, though, and your bar could become the centerpiece of your whole restaurant. What better way to inspire orders than to catch your customers' eyes the instant they step foot in your establishment? With concealed illumination glowing through acrylic shelves and risers, your liquor and supplies generate curiosity and delighted scrutiny. From there, drink orders naturally follow.
Include Your Logo to Perfect Your Lighted Liquor Display Shelves
To really show your pride in your bar, you can have your business logo — or any other nifty design — incorporated into the displays. The internal LED lights create a sensational exhibit that your visitors can't ignore. To add more excitement, you can program the lights to rotate through a range of colors and intensities. Even set the lights to throb with your background music, if you like. Your lighted bar shelves come with a remote control that enables you to choose a wide array of custom colors and dynamics.
It pays to enhance your restaurant bar shelf system with the most intriguing displays. Your liquor bottles set aglow from hidden lighting will certainly captivate your guests and inspire more sales. You can even cut back on your more expensive florescent and incandescent lighting to save money on your electric bill while you're at it. Once you transform your bar into a magical focal point within your restaurant, it should increase your revenue opportunities.