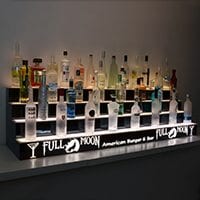 Liquor Display to Make Your Competitors Jealous
We may never know the names of the designers and craftsmen who create unique and clever liquor bottles. But their handiwork deserves to be seen and appreciated at your bar. Whether it's on your portable banquet bar or at your fixed business location, a worthy liquor display affords your patrons a delightful exhibit of bottle art. With all the enchanting shapes, colors and textures, the longer you keep your patrons' attention at the bar, the better your opportunity to increase sales. Face-to-face with products they may never have seen before, your customers may like to sample new drinks from your liquor supply.
Add Drama to Your Liquor Display with LED Lights
In a room darkened for mood, your bottles may fade into the background as the under-shelf lighting of the bar spotlights the bartender instead. However, display shelves lit from within by LED lights attract the eyes and shift the focus to your wares. With a sizable array of colors available to illuminate the bottles, you can produce dramatic exhibitions, washing the bottles in a gentle light show sure to captivate your drinking audience.
Customize Your Liquor Shelves to Enhance Your Bar's Appeal
As no two bars are created equal, you may have a very particular lighted liquor display product in mind. By working with a custom designer, you can acquire the exact right set of shelves to boost your bar's popularity. From single shelf to multi-tiered, from wrap-around square to wrap-around curved and just about any other configuration you can think of, you can build your lighted display to fit your space and needs to perfection. Also, because the LED lighting can generate a large range of colors and motions, your liquor displays can be as unique as your bar and the bottles they feature.
Your liquor display, glowing from beneath with rotating color schemes, draws yet more attention to those artful containers. Inspired by the lovely bottles, intimately revealed on custom LED-lighted liquor shelves, your customers may well purchase more of their contents.