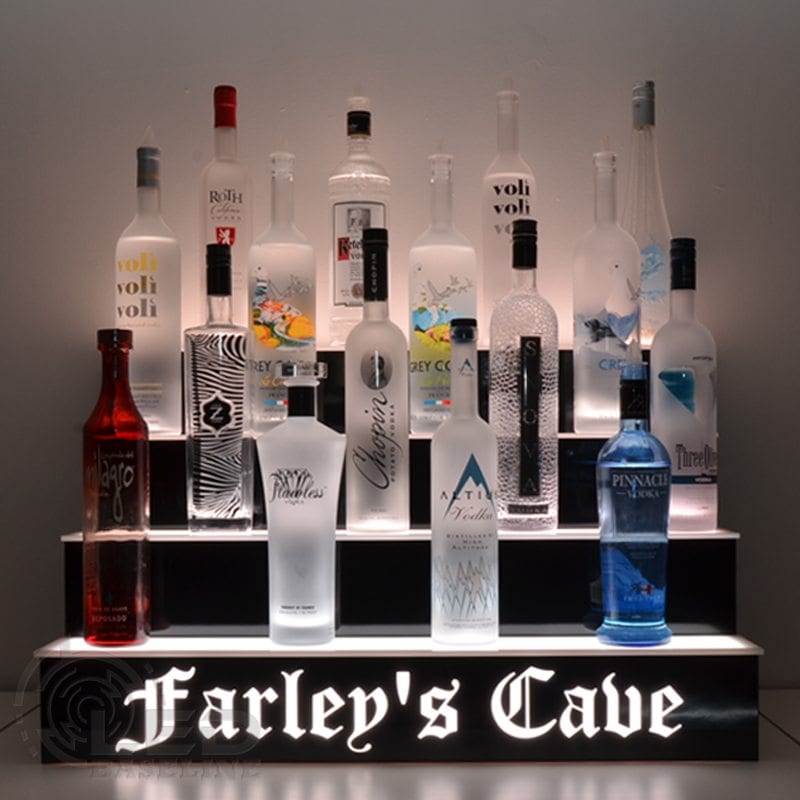 Beyond the Bar, LED Light Shelves for Home
Many of our customers ask about LED light shelves for home. What a wonderful way to create a stunning display in any room! We offer plenty of designs and options to fit home display for liquor bottles, books, collectibles, or pretty much anything you desire!
Your Options for LED Light Shelves for Home
No matter what you need to display, we offer custom designs to suit your needs. Choose from elegant and stylish wall-mounted designs. Or jazz up your counters and tables with a multiple-tiered LED shelf. Just a small sample of unique solutions we offer include:
LED Floating Shelves
Choose between one and two tiers of floating wall mount shelves in a range of colors and sizes. We can also add custom lettering to really personalize your display!
Consider acrylic floating LED light shelves for home when you need a versatile and elegant display option. These feature simple, sturdy brackets that can support your most treasured collectibles (and liquors too!)
For one or two special display items, try a curved LED floating shelf! These small, stylish shelves are a perfect accent to any wall space and draw all attention exactly where you want it to be.
Low and High-Profile Shelves
Low Profile LED light shelves for home are a great display option for countertops and tables with limited space. Each tier is shorter and more compact than our regular shelves, while still offering a gorgeous LED light display.
High Profile shelves feature dramatically tall tiers that are perfect for tall bottles, trophies, or anything where you need height over width!
Whether you place them in your residential bar, office, or living room, LED Baseline can create the perfect custom LED light shelves for home. Visit our website today to start creating your next great home display!