LED Baseline, Inc. is a manufacturer and distributor of trend setting contemporary lighted shelves and lighted furniture. We sell everything you need to give your home bar, nightclub or restaurant space a striking impression. Our furniture lines focus on focal point pieces including lighted liquor displays, coffee tables, side tables and high bar tables.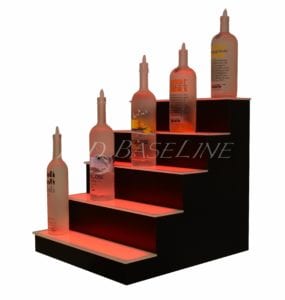 All of our products are equipped with remote controlled, color changing LED lighting for a customized, dramatic effect. We understand that our customers have different needs and that is why we offer customization options to fit your requirements and decor.
If you have a unique project or idea please give us a call! 1-800-701-2199. We will design and fabricate your custom furniture or lighted shelves for you. Our professional design and fabrication team specializes in making your dreams a reality!
The Team
Geoffrey Cerilli – Founder
Geoff has been working in the design and manufacturing industry for over a decade. Geoff graduated from Miami University with a Bachelors of Architectural Design in 2000. After graduation, the lure of Denver's urban energy and snow-capped mountains brought Geoff to Colorado. Once in Colorado Geoff capped off his educational experience with a Masters degree in Architecture from Colorado University in 2003 with a focus in design-build practices. Geoff has received awards from the American Institute of Architects for his functional art designs as well as numerous honorable mentions. Geoff has always taken pride in calling himself a "jack of all trades" and enjoys taking part in all aspects of an objects creation. Over the course of his career Geoff gained experience through a variety of fields including architecture, construction, industrial design and fabrication. Through a process of gathering knowledge from professionals over the years, Geoff found his niche in creating trend setting furniture designs and decided to begin his own business endeavor.