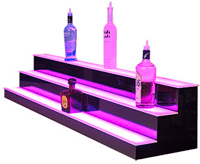 Do you have LED Bar Shelving in your bar, restaurant, or home? Maybe you serve only the best premium liquor available: Only the top of the line for your friends or customers, right? But it doesn't do you much good to carry those expensive, classy brands if nobody can see them! That's one good reason to have LED Bar Shelving. Whatever brands you carry, we guarantee they will look better and move faster with LED Bar Shelving. You don't want your liquor, your customers, or your friends sitting completely in the dark. LED Bar Shelving makes that liquor display pop. Check out our gallery!
LED Bar Shelving is Versatile
This shelving is wonderfully suited to bars, but it's not limited to them. LED shelves make fantastic displays for any items you want to show off. Collectors use the shelving and lights to highlight personal collections and memorabilia of all types. Nothing does it better than LED shelving.
Custom Made, Just for You
At LED Baseline we build every shelf and lighting system to order. That means you get exactly what you want for your venue. Whether for business or personal use, your lighting and shelves will be custom made and unique. This is a feature that is especially suited, not only for commercial establishments, but for that man cave, she lair, or family recreation area. And if you've always wanted to see your name or logo in lights, we can make that happen too! LED Bar Shelving adds that touch of personality that makes your venue you. When it comes to LED lighting, we are the Wizards of Pop! Your only job is to let us know exactly what you want. We take care of the rest. We craft only the highest quality furniture and shelves, and when we're finished with our work, we ship it to you free. That's a combination that can't be beat! Contact us today for more information.