Home Bar Shelves: The Ideal Complement to Your Home Bar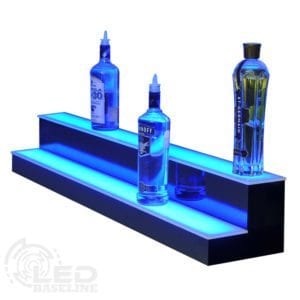 Oh, the amazing things you can do with LED lights.
Converting your rather boring home liquor display into an exciting adventure for the eyes is one them. Rather than lining up those bottles along an ordinary bar top or back counter, you could, instead, set them visually ablaze with lighted home bar shelves.
LED shelves make the ideal complement to your home bar.
Color It Cool with Home Bar Shelves in a Kaleidoscope of Hues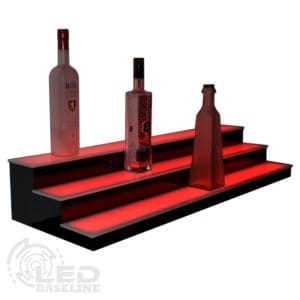 Whether you want to impress you pals with the ultimate man cave bar, or you host more diverse gatherings, your friends will notice your taste and sophistication when they saunter up to your bar. Because you can select up to 96 colors to illuminate your home liquor display, you can set your party theme any way you want. Can't stand the idea of one color all night? No problem! Program your lighted shelves to rotate through a variety of washes.
No way are you ever stuck with just the primary colors. You select custom hues by mixing the primaries until you find just the right tint for your mood.
Be the Master of Your Home Liquor Display Lighting
Want to change up your lighting design on the fly? Easy! Just program and carry the remote in your pocket as you circulate through the crowd. Launch the next lighting surprise whenever you want. Buy several LED home bar shelves and program the controls to strobe them in a pattern of your choosing. You can keep your celebrants guessing which set of shelves will light next.
No matter your preferred entertaining style, lighted home bar shelves splashing color all around your liquor supply leaves a lasting impression on revelers. Your party guests will rave about your daring LED home liquor display shelves long after the party is over.